Electronics Club For Children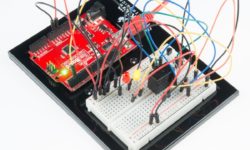 This is a weekly two-hour, electronics club for children from the ages of 10 to 16.  It will run on a Saturday from 11.30 to 13.30 and will start immediately after the Python Coding Club has ended.  It is aimed at complete beginners and will enable children to learn how electronics works, by building circuits under the close supervision of skilled adults.  They will learn about the different electronic components, how to solder and use the laboratory / workshop test equipment.
When children are confident with the basics, they will be able to transfer to the more advanced club that will run in parallel, also on a Saturday within the museum.  In the more advanced club, children will work on projects which include Raspberry Pi and Arduino computers.  This means that children who attend the Python code club on a Saturday morning, will be able to stay on for the electronics club, where ultimately they will be able to build circuits which can be driven with software code that they have written.  The whole ethos of these clubs is to demonstrate how electronics and software are closely coupled and using both skills the children will be able to develop real life systems such as rotating the antennas at the museum to track the International Space Station and link with various orbiting satellites.  They will also develop projects using bluetooth and wi-fi not just using the technology but understanding how it is built and how it can be used.  These clubs are intended to be "hands on" and fun.
For those children that wish to develop their skills even further, they can attend the mid week evening training courses to enable them to obtain an amateur radio licence which will allow them to use the radio transmission equipment in the museum.
The first session of the Electronics Club will be completely free,  to check that the children attending like it and only if they decide to become a club member, will they need to join and pay a weekly membership fee.  The weekly membership fee is £8,  which includes the cost of consumable electronic components.
At this stage we would like parents / carers to just register their children's interest by sending an email to info@radiocommunicationmuseum.org with the child's name, date of birth and the parent's / carers contact information including name, home address, email address ad telephone number (home or portable).
NOTE : This club will start on 16th September 2017 and the initial term will run until 16th December 2017, however demand for places is expected to be high and spaces are limited so reserve a place NOW!